Gili Air (Indonesia)
Sunset on Gili Air with view on Lombok
Paradise on earth.
After traveling for 10 days in Indonesia, we finally found what we were looking for: beach, sunshine, relaxation and a good place to work. As we couldn't find all of this on Bali, we moved to Gili Air. Gili Air is the smallest of three tiny islands near Lombok. The way once around the island is exactly 5km, the perfect distance for a daily morning run.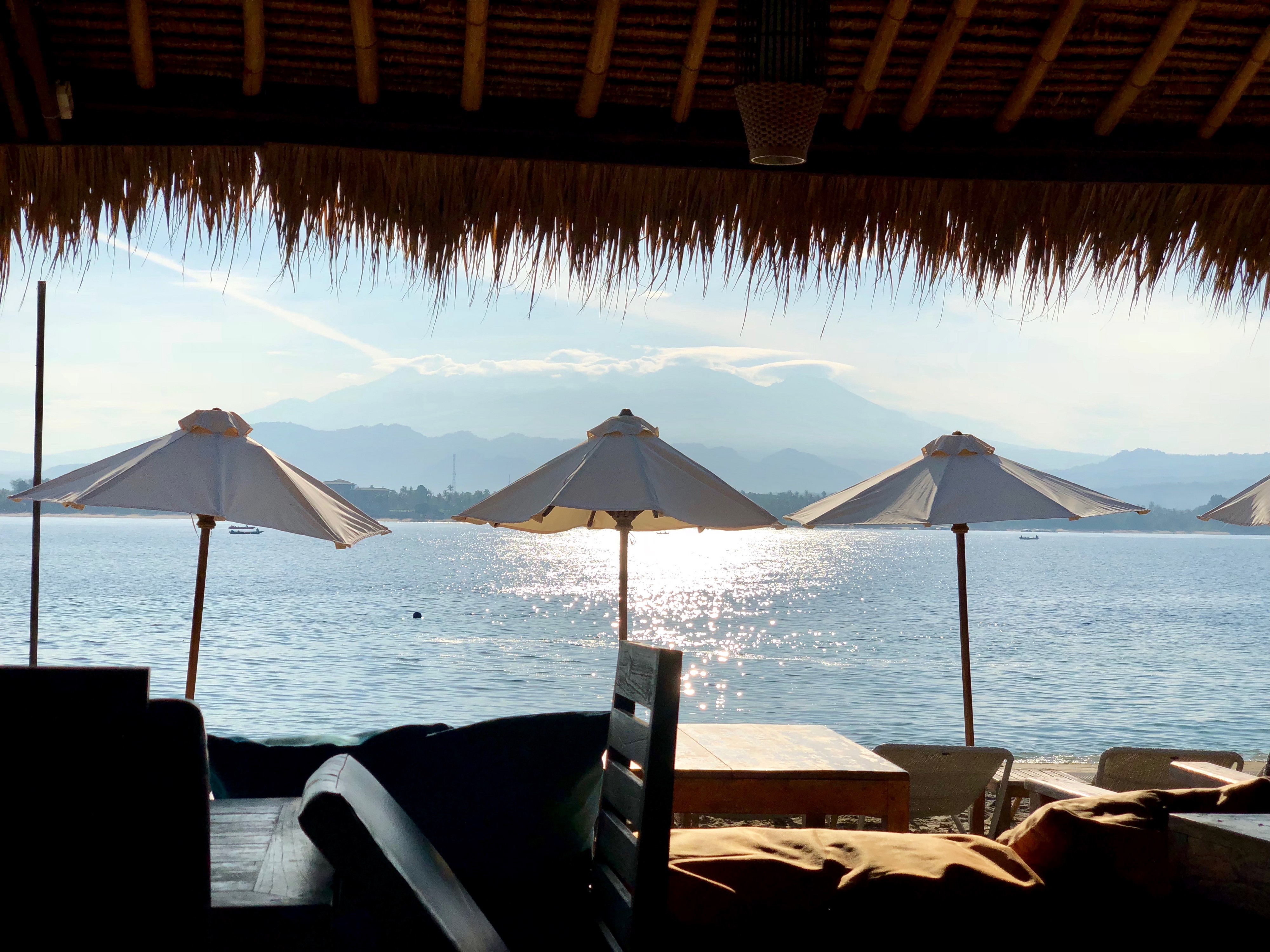 South-west view on Lombok and the volcano in the morning
In order to get to Gili Air, we took a taxi from Canggu back to Padang Bai (see my previous post on Canggu and why this was a bad idea) and then a fast boat (Patagonia Express seems to be the cheapest) to Gili Air. Unfortunately that day there was a religious procession going on, we spent 2 hours in a traffic jam and missed our boat. Luckily, our driver was able to talk to Patagonia staff and they were nice about it and gave us tickets for a different boat which left a little later.
The first few days we stayed at Chill Out Bungalows on the south-west side of the island, which was an amazing pick. A large open-air bathroom, AC, full-frame mosquito net and fast WiFi made this a great stay. After that we moved to a budget friendly location: Salili Bungalow at the north-east side of the island.
After a few days of exploring, I generally prefer the south-west side as you can experience the sunrise, it's close to "Turtle Beach" and there are plenty of restaurants, shops etc. The shore is sandy and better to walk into the water for swimming and snorkelling. The north-east is very quiet during the day but offers some clubs and nightlife. Closer to the harbour it gets more touristic and busy on the streets.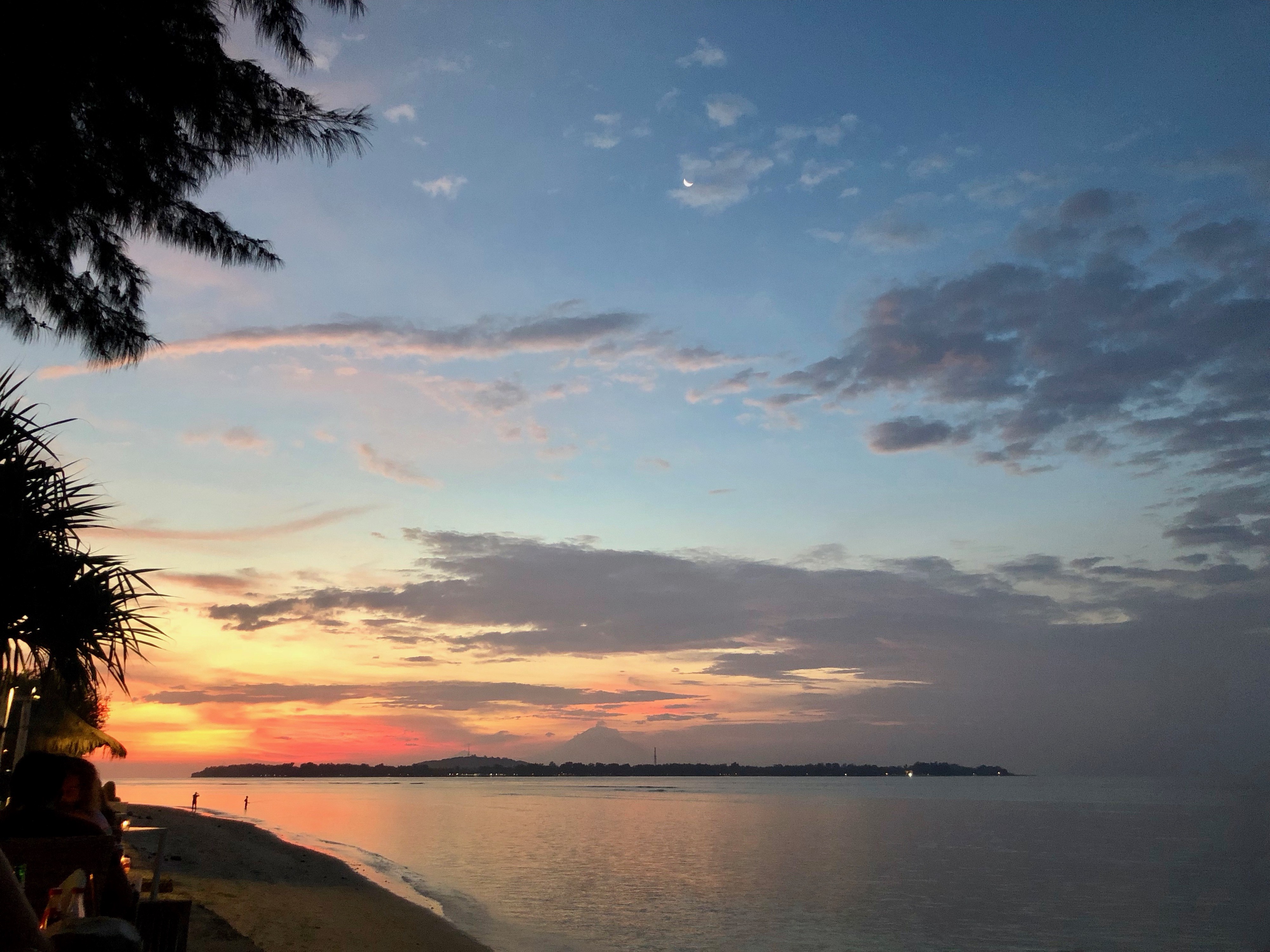 North-east of the island with view on the other Gilis and Mount Agung (Bali) in the background
We quickly developed a routine of getting up around 6.30am, going for a 5k run, having breakfast and starting the first 3–4 hour work shift. Around mid-day we spend some time snorkelling or swimming before lunch. After lunch we schedule activities like scuba diving, flying the Mavic drone or cycling, followed by another work shift in the early evening (mostly concluding the work day with the daily standup call with my awesome engineering team at Heneise Consulting). Everything was accompanied by coffee, coconuts and other delicacies.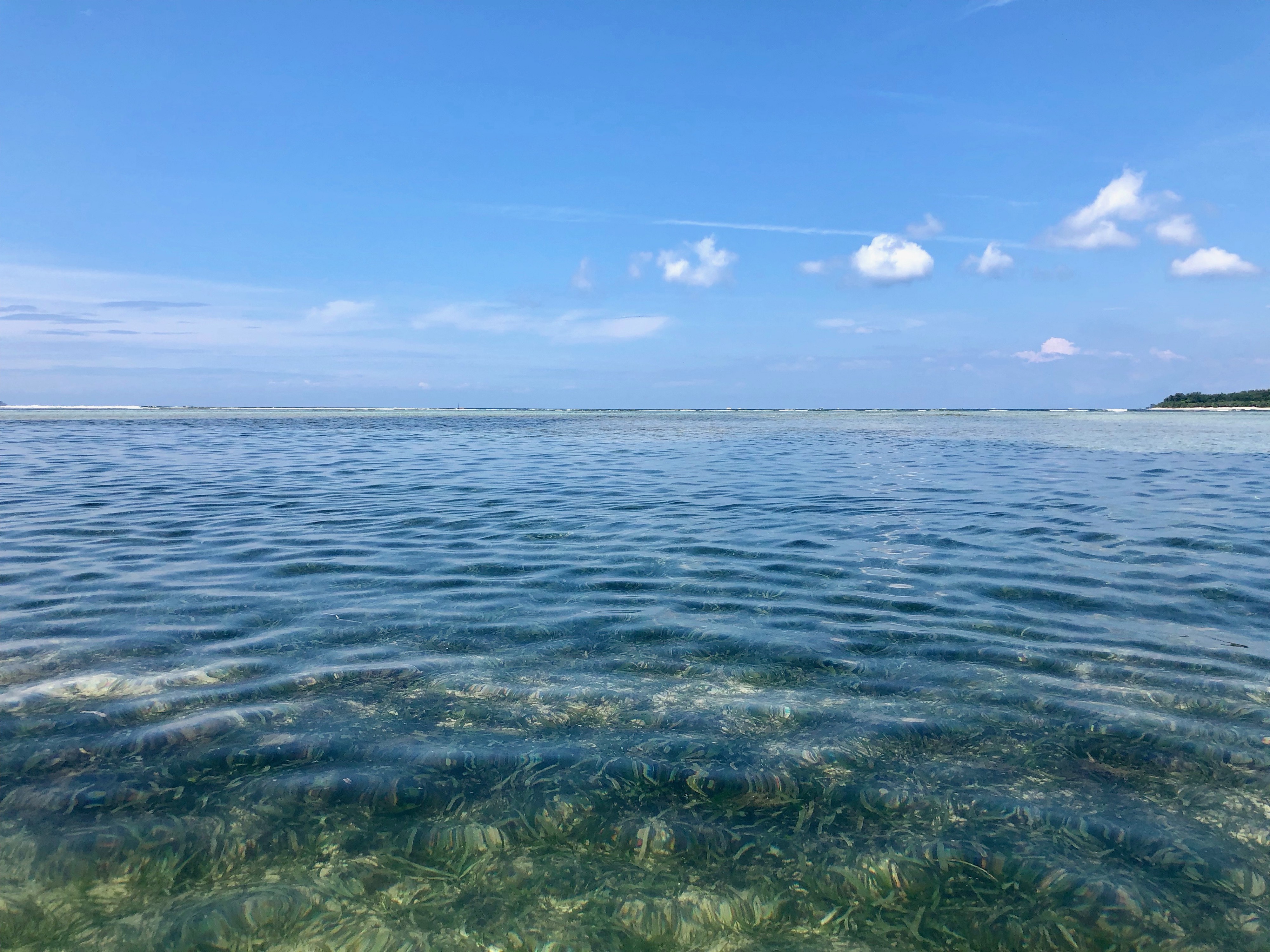 Clear water at Gili Air Beach
Most of the places here commit to "no plastic", which is great! Some go as far as offering bamboo straws or some alternative to the plastic. In general the island seems very eco-friendly, there are no cars here and all scooters are electric vehicles. Most people choose the bicycle or horse carriage to move around; or just walk. The water around is mostly clear and there are plenty of fish to watch. Unfortunately I haven't seen a sea turtle yet, but I hope this changes with the next scuba dive.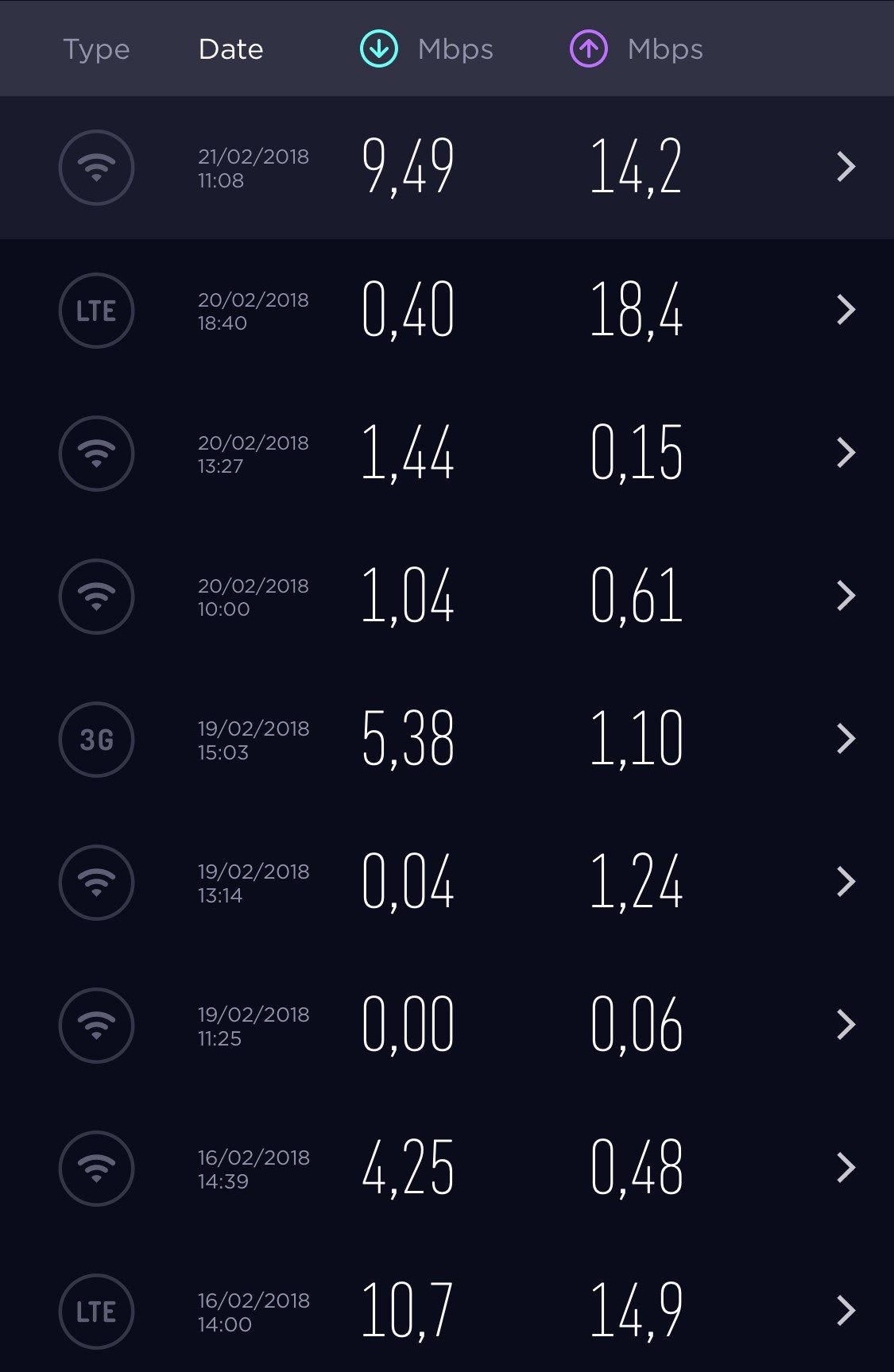 WiFi and LTE speeds at various locations. Best results are LTE on the south side, Chill Out Bungalows and "Scratch" Restaurant at the north beach.
In terms of internet speed to work, we've experienced everything from 0 to "fast". Here's a list of measurements. The fastest we got was with LTE on the south side of the island, followed by the WiFi of Chill Out (south) and the Scratch Restaurant at the north side.
One of the best gadgets I got before the trip was the Huawei E5885 4G Mobile WiFi Hotspot. This way we're pretty much independent of WiFi. A SIM card with 6GB data plan is 120.000 IDR (7.15*€ / $*8,82) and on a regular day we need about 500 Mb if there's absolutely no WiFi available.
The first items were already left behind. I had packed a pair of trail running shoes which didn't really fit me. Also, the hoodie I used for traveling to the Airport in (cold) Europe stayed behind, it's way too hot here. The next items that will drop out are a few of the way too many underwear pants and socks I packed, as that precious space in the backpack can be used otherwise. There are laundry services available everywhere and most of the time is spent in surf shorts to quickly jump into the sea for refreshment during the day. There's also the pair of jeans I used for the journey to Asia, which now doesn't serve any purpose (again, too hot here), these and some other items I hope we can ship back to Europe at some point before we move to the next destination.
Since arrival we went for 5 fun dives at Blue Marlin Dive. The staff there was amazing and we met a lot of great people. Our dives in order:
Hans Reef
Turtle Paradise
Air Wall
Meno Wall
Hans Reef
Hans Reef was a great intro to Gili Air diving and a good start, but Turtle Paradise and Meno Wall were definitely the best spots. We saw lots of huge sea turtles (larger than 1.5m), baby sharks and other fascinating animals. Unfortunately I don't have a underwater camera yet and can't really decide which one to get, so there are no pictures 😿.
As we had such a great and relaxing time on Gili Air, we stayed for a another 12 nights/13 days at Salili and departed on Saturday, March 3rd towards Ubud.
At the time of writing this article, 100.000 IDR equal 5.96€ / $7.35
Fast Boat from Padang Bai: 250.000 IDR / person
Accommodation: 400.000–1.145.000 IDR / night
Bike rental (24h): 50.000 IDR
Mask, snorkel & fins (day rent): 50.000 IDR
Meals are around 50.000-85.000 IDR
Large bottle of water: 10.000 IDR
Scuba Dive 490.000 IDR
Average cost per day for a couple incl. 2 meals per person, drinks and accommodation: 900.000–1.400.000 IDR (53€ / $66 — 84€ / $103).